About Us
---
INTRO: PLEASE BE SEATED
Racetech race seats are regarded by many in the driving seat as the best in the world. Our composite and carbon fibre race seats are fitted to thousands of race cars, touring cars, rally cars, drift, drag and speedway cars. We keep people racing fast, safe – and we do it in ways that break the mould for safety, comfort and performance.
From our HQ in Wellington, New Zealand, we design, test, manufacture and sell our comprehensive range of race seats, alongside other top-class race products, to iconic racing marques around the world.
Racetech seats perform. They're comfortable; they fit perfectly, they feel secure, they connect you with your car in ways that give you the confidence to safely push your boundaries. We get that need to do better. It drives us, too—that competitiveness.
We know only too well that thing that happens when you feel the seat wrap around you. Suddenly what you see ahead of you becomes your world. That adrenalin rush and focus is addictive, calling you back week after week, race after race. It drives you to shave fractions off last week's lap time, to out-position a rival, to throw everything you have at being as good as you can be.
No other racing seat manufacturer is more concerned about drivers. Our culture and purpose revolve around getting you and every other driver home. That determination to make sure racers get to walk away safely from their time on the track and the road plays out in every aspect of our approach. No detail is too small when it comes to saving lives.
Our commitment carries through to our insistence on quality production. The only price we put on safety is a fair one: we don't skimp or cut corners—the best costs what it costs.
Our willingness to recognise and address issues stems from that deep Kiwi pragmatism that lets us chase excellence at the expense of tradition. We're a practical, grounded and free-thinking team with an eye for detail and a steely determination to consistently and carefully introduce the evolutions that, over time, help make racing safer.
We literally help set the standards for keeping drivers safe globally. We are currently a member of the FIA IWG, the Industry Working Group that global body The Federation Internationale De L'Automobile (FIA) consults with. Our team is regularly sought out by national motorsport organisations to assist with improving safety standards and understanding driver safety. Here in Australia, we work closely with many V8 Supercar teams and the TA2 Australia Muscle Car Series supporting them with driver safety.
All of that means that every time you slip into a Racetech race seat, everything we know is right there with you.


---
ETHOS: STRAP YOURSELF IN
We focus on designing, developing and producing the best race seats in the world. In fact, Racetech seats are used by some of the world's leading teams and constructors, including Porsche, Aston Martin, McLaren, Chevrolet, Ford, Dodge, and Australia's own V8 Supercars and TA2 Series cars.
Racetech seats are robust and supportive. They're made that way, and they are that good because we've made it our business to know what makes drivers tick. We combine safety, comfort and performance in seats that drivers can depend on and that represent true value for money. They are your added advantage.
Our knowledge and experience make us the world leader in racing seat science. Our patented back mounting gives you solid contact with your vehicle and improves your feel of your race car. Not only does this enhance your performance, you're also safer racing this way. Tests have shown that if you support and maintain alignment of the head, shoulders, pelvis and thighs, drivers can withstand enormous decelerations with minimal or no injuries.
Our expert team is passionate about the tiny details of your racing machine's seats, harnesses, and other vital components. For us, performance is about much more than just reducing weight. All Racetech seats have parallel sides for ease of fitting and driver positioning. The lack of flex in the shoulder area of our seats helps reduce fatigue and improves safety. The six-point mounting method we pioneered helps improve car handling and the ability to tune the chassis. These features, and more, literally make the difference between life and death or injury.
With a Racetech seat, you don't have to pay top dollar to take advantage of our innovative thinking and design. Many of the features in our top-of-the-range seats carry right across our range. No matter which seat you invest in, you still get back-mounting, square shoulders and the simple, nothing-to-fail cooling system that Porsche Works and V8 Supercar drivers swear by.
And when it comes to sizing, no other racing seat manufacturer is more accommodating. We offer you the widest range, and each seat in all our ranges includes an ergonomically moulded removable base cushion and seat geometry that ensures you're always sitting comfortably.
Choose a Racetech seat. They're made for people like you. Drivers.


---
HISTORY: WE DARED TO TAKE SAFETY SITTING DOWN
From the get-go, Racetech has been a company focused on leading the world in competition – however you choose to define it. Formed in 1992, the company was bought by David Black in 1998 and shifted to Wellington, New Zealand.
Just three years later, Racetech established its first contact with American automakers at the PRI show. Meetings with Daimler Chrysler led to the launch of a Dodge Viper competition coupe with a new safety package that included Racetech seats.
In 2007 we once again worked with FIA Institute to finalise a new seat standard – 8862-2009. Use of our seats accelerated. Sprint car, rally car and V8 Supercar drivers increasingly insisted on our seats. In 2010, our RT4129 became the only fibreglass seat in the world to pass this new standard.
By 2012 Racetech seats had truly reached elite acceptance. Our seats were selected for all entrants of the new touring car series, the Swedish TTA (Touring Car Team Association) Racing Elite League and the front-running Asia Pacific Rally Championship team, MRF Skoda. That same year, Racetech USA, a wholly-owned subsidiary, opened its doors in Mooresville, North Carolina.
Two years later, our New Zealand company moved to a new facility that now enables us to produce our high-performance race seats in greater numbers. A new warehouse in Staffordshire, England, also meant we could hold a more extensive inventory and provide better support and service to our thriving European and UK business.
In 2016 we released another two seats, both made to FIA 8862-2009. One of them, the RT9129HRWP was developed in consultation with Porsche. Take a look in the cabin of winning GTE, Supercars, World Rallycross and BTCC champions. They all win using Racetech 129 Series seats.
In 2018 we were selected by Ford Performance to co-develop a driver safety solution for their Cobra Jet drag car.
In 2019 we launched the 4100 series of lightweight FIA 8855-1999 seats, made using resin infusion technology. This hugely popular seat series is now available in three sizes, with optional vinyl upholstery.
2020 saw us supplying the driver safety system for the Dodge Challenger Drag Pak.
Today, Racetech offers a range of race seats to drivers at all competitive levels. No matter whether you're one of the best in your business or someone who drives for the sheer joy of improving your personal best, we deliver hand-crafted seats that we believe are the safest in the world and that accommodate the bodies of both the most prominent names and the deepest passions in motorsport.

---
DAVID BLACK: THE MAN IN THE DRIVER'S SEAT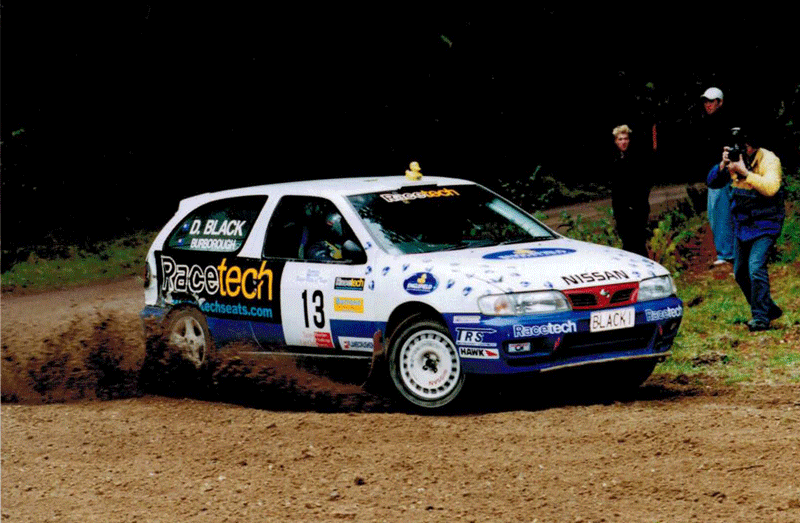 You don't meet many people who combine a fascination with shape with a passion for speed. Racetech MD David Black balances those two priorities in everything he leads.
The former New Zealand motorcycle endurance race champion completed an architectural draughtsman qualification in 1978. That building background has served him well in understanding physical dynamics and knowing how to identify and solve problems.
In 1985, he started rallying and would go on to be the F2 class champion in the Rally New Zealand round of WRC three times. In 1994, he suffered a severe frontal crash when his F2 rally car flew over a 75ft cliff landing in a stream.
When, in the early nineties, he found that there wasn't anywhere in Wellington that serious racers could get hands-on with motorsport parts, David founded Black Rally Sport. That changed the motorsport scene in his hometown forever. Black Rally Sport was chosen as the lower North Island Racetech distributor.
David purchased the whole of Racetech in 1998 as a one-person operation and began building a business for people who shared his love of competitive motorsport. His fascination with safety only increased as he came into contact with some of the best minds in automotive safety over the coming years.
In 2002, David helped design and develop a new concept seat for the Dodge Viper competition coupe. The following year he was invited by FIA Institute to participate in their safety standard development and crash test programme. Then he worked with them on the development of the 8862-2009 advanced seat standard.
More recently David has made significant contributions to the development of a new FIA standard, 8855-2021. David's input has gone a long way to ensuring that this standard has a high level of adoption and achieves its goal of increasing driver safety.
His driver's seat perspective is one of David's significant assets. He understands what drives people to compete at speed. His commitment to safety is deeply personal. His wealth of real-world racing and technical knowledge and relationships with some of the top drivers in the world enable Racetech to deliver the ultimate blend of performance, safety, fit and price for those in the cockpit.
Today, David heads a team of detail-conscious, data-driven designers, engineers, fabricators, and Racetech continues to pull away as a world leader in race seat design and engineering.

---